Quick Chinese Spicy Cucumbers
Welcome to the September edition of Let's Lunch!  This month, our theme is pickles.  I am a big fan of a fresh pickle; the full-sour is, well, a little too much sour for me, but I will be delighted to eat a half-sour any day.  The beauty of the fresh pickle is that you can do it with almost any vegetable (I'm fond of radishes), and without having to commit precious kitchen space to cucumbers you are not going to be able to eat for a couple of weeks.
This recipe was inspired by a dish made by one of my Chinese "aunts" (she's related to someone who's related to someone I'm related to.  I think.).  They've got a bit of a kick and can be ready in an afternoon; just right for impatient folks like me!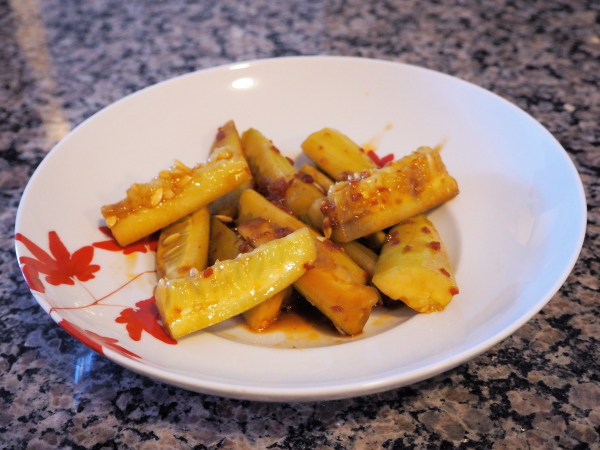 Quick Chinese Spicy Cucumbers
3 cucumbers
2 Tbsp. sambal
2 Tbsp. sherry vinegar
2 Tbsp. toasted sesame oil
3 Tbsp. soy sauce
Peel cucumbers and slice into batons (I do this by cutting the length of each cucumber into thirds, standing each piece on the flat end, and slicing them lengthwise into sixths while they're standing on end).  Whisk together all other ingredients.  Toss cucumbers in marinade and put in a sealed container in the refrigerator for at least four hours and up to a day, shaking the container or stirring the cucumbers periodically to make sure everybody gets a turn.
Still hungry?  Check out the other offerings on Twitter, hashtag #LetsLunch, or below:
Fermenting Friendships at Spicebox Travels.
Spicy Pickles and Pork Sammy at Sandwich Surprise!
Pickled Carrots at Monday Morning Cooking Club.