Afternoons on the Water (Let's Lunch)
Welcome to this month's Let's Lunch!  For July, we're taking advantage of the warm weather (at least here in the northern hemisphere!) and focusing on meals al fresco, from dinner on the patio to your Fourth of July picnic.
Now, I like a good picnic as much as the next girl, but my most cherished memories of outdoor meals are from long days on the river in a canoe.  My best childhood friend and I made a tradition once we were old enough of making an annual canoe trip on one of the local rivers.  The livery would put us into the water eight miles up a broad, lazy river, and we'd spend all afternoon exploring, sunbathing, and swimming before making our way back down just in time for dinner.
Naturally, serious provisioning was required for such a demanding endeavor.  The contents of the cooler varied from year to year, but we usually took chicken, Bugles, a few ripe plums, lemonade, and our staple: a batch of butterscotch brownies.  Chewy, nutty, and full of brown sugar, we'd bring the whole batch and they'd be gone before we reached the livery again.
The recipe follows after the jump; take some along on your next hike, or just whip up a batch for dessert, but don't expect them to stick around — they'll be gone before you know it!
Butterscotch Brownies
1/4 cup (1/2 stick) butter
1 cup light brown sugar
1 egg
1 tsp. vanilla extract
1/2 cup all purpose flour
1 tsp. baking powder
1/2 tsp. salt
1 cup chopped pecans
Preheat oven to 350 degrees.  Grease 8″x8″ pan.
Melt butter in a saucepan and stir in brown sugar until dissolved.  Cool slightly, then beat in egg and vanilla.  Sift together flour, baking soda, and salt, then stir into butter mixture.  Stir in pecans, then turn out into prepared pan.  Bake 20-25 minutes, and be sure not to overbake — they're best when only just baked through.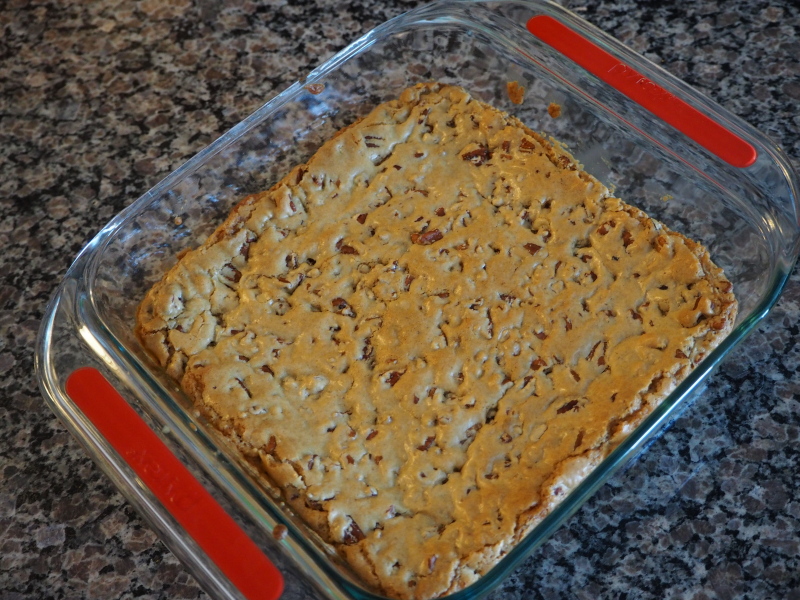 Still hungry?  Check out the other offerings on Twitter, hashtag #LetsLunch, or below:
Spinach and Three Cheese Coils at Monday Morning Cooking Club.
Adobong Mani at Asian in America.
Lamb, Dukkah, Kale and Fetta Scrolls at foodnutzz.
Perfect Summer Pesto from Cheryl Lu-Lien Tan.
Peachy Picnic Sliders at Sandwich Surprise.
Summer Cocktails at GeoFooding.
Spicy Nectarine-Tomato Salad at Spicebox Travels.
Dark Chocolate Mousse at Tea and Scones.