Spring's Bounty (Let's Lunch)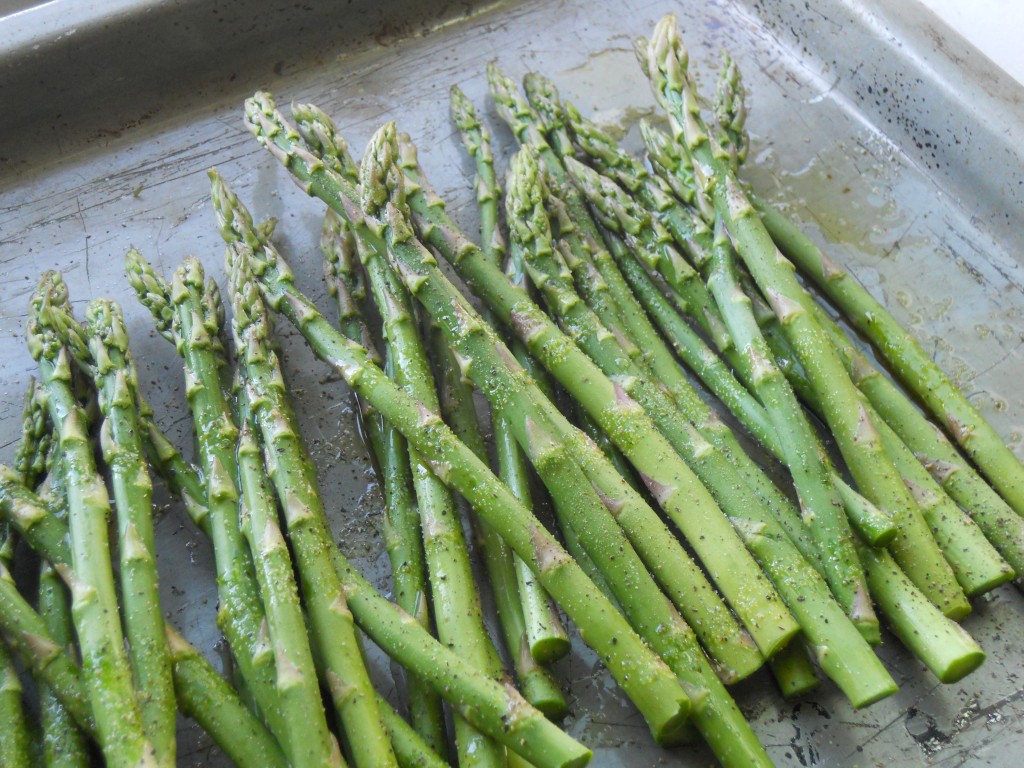 Welcome to the April edition of Let's Lunch!  This month's theme is blissful simplicity: three ingredient recipes.  I'm not normally a pared-down sort of a cook, with one exception: the preparation of beautiful seasonal produce.  Sometimes, it's best just to let Mother Nature speak for herself.
Coincidentally, this is the time of year when I inevitably become obsessed with spring produce.  You will note that I do not say that this is the time of year when spring produce shows up in our local farmer's markets.  This is the North, folks.  This is just the time of year when I feel like it ought to be showing up.  I'll be delighted to see it in another month when it actually arrives.
In the spirit of spring fever, however, I picked up some lovely asparagus that probably flew here from California, and gave it just a tiny bit of help to make it special with a dash of truffle oil.  Turns out, this may be just enough to tide me over until May.
Roasted Asparagus with Truffle Oil
1 lb. fresh asparagus
Olive oil
Salt and pepper
Black truffle oil (or truffle butter)
Preheat oven to 400 F.
Trim off the tough ends of the asparagus (or peel the ends if you prefer).  Toss with olive oil to coat, and sprinkle with salt and pepper.  Roast on a baking sheet for 20 minutes.  Remove from oven, plate, and drizzle with truffle oil or dot with truffle butter.
Still hungry?  Check out the other offerings on Twitter, hashtag #LetsLunch, or below:
Mac and Cheese and Peanut Butter Cookies at Tea and Scones.
Filipino Sticky Rice Logs at Asian in America.
Easier Chicken and Dumplings at A Cook and Her Books.
Turkish Sesame Sweet at Monday Morning Cooking Club.
Trinidadian Mango Chow at Spicebox Travels.
Mango Coconut Chia Pudding at HapaMama.
Peanut Butter Cookies at Hot Curries & Cold Beer.