Eggs for Bren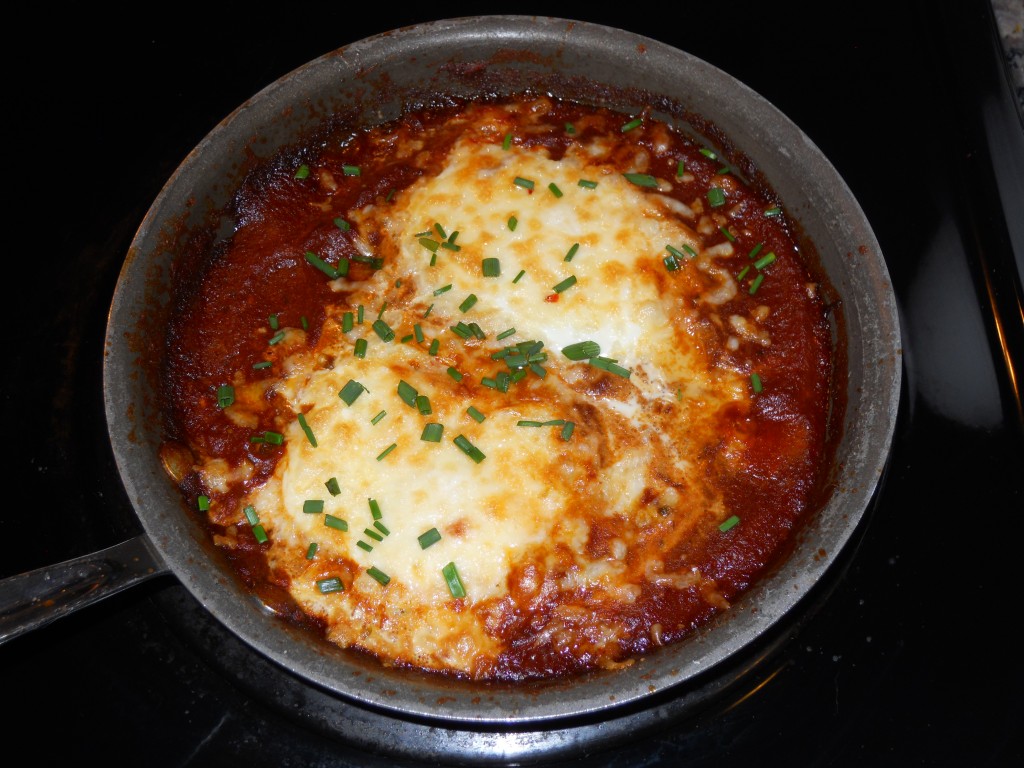 Welcome to this month's Let's Lunch!  The delectable theme for March is dishes inspired by literature.  For a compulsive reader like me, it was hard to know where to even start.  I've been reading and dreaming about things my favorite characters ate since preschool.  (Anyone else remember Bread and Jam for Frances?  How about the scene in Little House in the Big Woods where Laura and her family make maple sugar candy by pouring syrup into the snow outside?)
I flirted with the idea of trying to step up to the fantastically high standards of Rex Stout's epicurean detective Nero Wolfe and his private chef, Fritz Brenner, but frankly, the Nero Wolfe mysteries are so full of meals that it would be hard to pick a single one that stands out.  (Except the ones in which cyanide is served.)  Instead, I decided to go with something a little more modern.  One of my favorite science fiction series is C. J. Cherryh's Foreigner series.  In Foreigner and its sequels, a human colonial space expedition gets lost and ultimately lands on a planet inhabited by another intelligent species, the atevi.  Over the course of the following centuries, humans and atevi have one disastrous war and then learn to live together but apart, with only one human allowed to mediate between the two populations: the paidhi-aiji.
Instead of being space-centered, the series is focused on the interface between the two species, full of political intrigue and cultural misunderstandings.  The books center around the current paidhi, Bren Cameron.  Throughout the series, any number of Bren's important interactions with the atevi happen over tea or meals.  (Civilized folks, the atevi.)  Because of the different dietary needs of humans and atevi, Bren always has to exercise caution when eating atevi dishes so as to avoid being poisoned.  One of the dishes often mentioned at their breakfasts together is eggs with sauce.  The atevi sauces usually contain alkaloids, the compounds that make green potatoes poisonous, at levels that mean that poor Bren never gets to have any sauce with his eggs.  Talk about injustice; eggs in sauce sound delicious!  Why does no one ever offer me eggs in sauce?
To even the score, I therefore offer the following recipe.  As you may know, tomatoes do contain alkaloids, but I promise, the alkaloid levels are just fine for humans.
Human-Friendly Eggs for the Paidhi (see e.g. Eggs in Spicy Tomato Sauce)
One medium onion, chopped
One half poblano chile, seeded and chopped (you can include the seeds if you want more zip)
2 1/2 Tbsp. butter
One mulato chile (ancho would also work fine)
One 28-ounce can tomatoes
2-3 Tbsp. red wine
Pinch cayenne pepper
Salt and pepper
Six eggs
Shredded Monterey Jack cheese (or pepperjack if you're feeling particularly spicy)
Saute onion and poblano in butter over low heat in a medium oven-proof skillet, until vegetables are soft and onion is translucent.  Toast mulato chile for several minutes in the oven (this can also be done in a frying pan).  Allow to cool, then seed, stem, and grind.  Add to pan with vegetables and saute briefly.  Add tomatoes, red wine, and cayenne and simmer over low heat until slightly reduced, about half an hour.  Puree in a blender and salt and pepper to taste.
Carefully crack eggs into pan, distributing them evenly.  Continue to simmer until eggs have just begun to set up around the edges, about five minutes depending on how high you have the heat.  Sprinkle cheese over the eggs.  Broil briefly, just until the whites of the eggs have set up and the cheese is melted and bubbly.  (It's easy to overdo it, so don't overcook the eggs at the simmer stage.)
Serve with a thick slice of sourdough toast or the bread product of your choice.
Still hungry?  Check out the other offerings on Twitter, hashtag #LetsLunch, or below:
German Sugar Honey Pop Cakes at Monday Morning Cooking Club.
Cocktails with Gatsby at A Cook and Her Books.
Oaxacan Mole Rojo at Spicebox Travels.
Orange Curd Tarts fit for Alice at Eating My Words.
Easy Tag Alongs at Free Range Cookies.
Chinese Fried Eggs at HapaMama.
Papa's Favorite Hamburger at A Tiger in the Kitchen.
Leche Flan at Asian in America.