Let's Lunch: Olympian Eats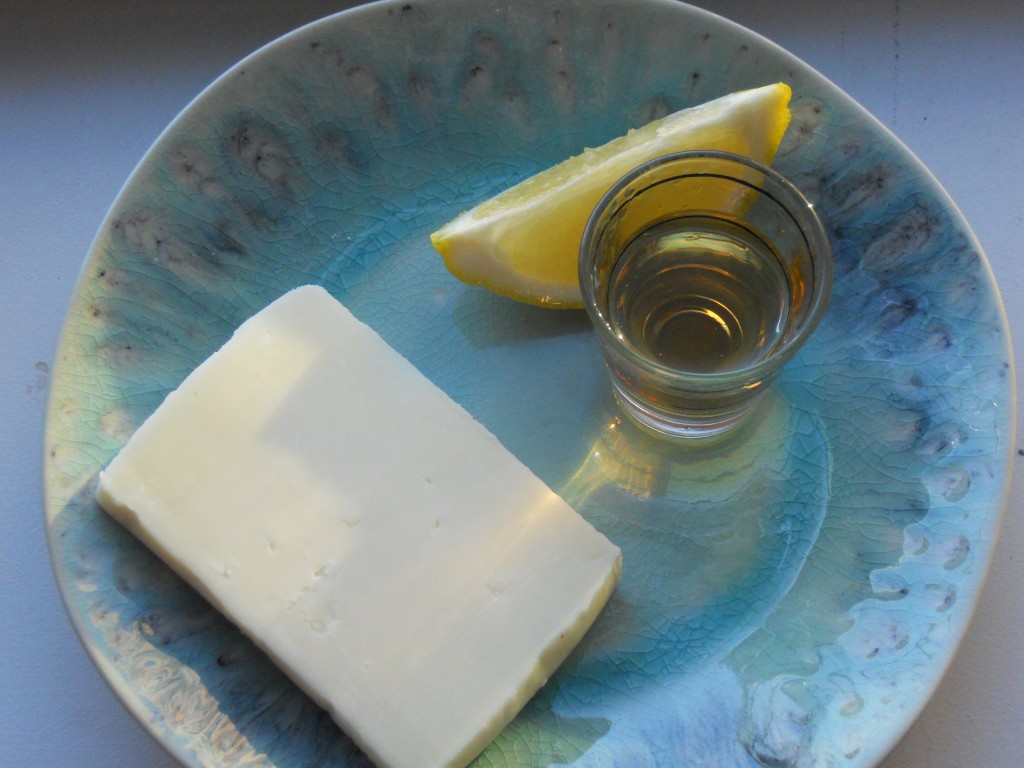 Welcome to this month's Let's Lunch!  I'm sure you hardly need to guess what this month's theme is; is anyone capable of thinking about anything today but the arrival of the Winter Olympics?  Naturally, being as obsessed with Greek food as I am, the Olympic theme immediately suggested Greece to me, but a brilliant friend did me one better by pointing out that the lighting of the torch cries out for things that are on fire.  (I swear I am not a pyromaniac, but is flaming food not more festive?  Come on.)
Having spent my childhood making regular pilgrimages to Greektown for dinner, saganaki (pan-fried cheese) immediately sprang to mind.  We ordered saganaki every time we went, and while the process of having it brought to the table ("OOOOPPPAAAAAAA!!") was intermittently terrifying, it has remained one of my favorites.  This would be a great snack for the opening ceremonies.
Since this isn't a breaded, deep-fried number, you need a cheese that will actually hold up to being pan-fried instead of turning into a puddle in the bottom of your pan.  I use halloumi, but Greece has a whole slew of delicious sheep's-milk cheese that will also fit the bill, including graviera, kefalograviera, and kelalotiri. I have also seen kasseri frequently recommended for it, but my own personal experience with kasseri was that it was too melty for the task.  If you find you're having that sort of issue with your cheese, freezing the dredged slices before frying and then using rather a high heat may help.
Cheesy deliciousness after the jump.
Saganaki
One or more 1/2″ slices of halloumi or other appropriate Greek sheep cheese
Olive oil
All-purpose flour for dredging (seasoned with salt and pepper if you like but check the saltiness of the cheese first)
1/2 to 3/4 ounce brandy (Metaxa if you are feeling particularly Greek) or ouzo (sooner you than me) in a shotglass
Matches (whee!)
Lemon wedges
Heat a couple tablespoons of oil in a small heavy frying pan over medium high heat.  Moisten cheese slices with water if necessary then dredge in flour and add to hot pan.  Fry until golden brown, a couple of minutes per side.
Turn off the heat and pull the pan away from anything concerningly flammable or explosive.  (This is where the show happens, so you may want to do it at or near the table.)  Add the liquor to the pan and then light it.  (Do not hold it close to your face while you do this.)  Bellow "OPAAAA!!!"  No, I mean really bellow.  If you are not scaring any small children who are nearby you're not doing it right.  Windows should rattle.  (I frequently ended up under the table when this happened when I was a kid.)  Swirl it around a little so the liquor burns off nicely.
Squeeze lemon juice over and serve immediately with crusty bread or pitas.  Think deep thoughts about all that hard work on skis and skates people who are not you are doing right now and the fashion cues you should take from the national outfits and/or Norwegian curlers' pants.
Still hungry?  Check out the other offerings on Twitter, hashtag #LetsLunch, or below:
Hot borscht at Monday Morning Cooking Club.
Honeybell Chess Pie at Eating My Words.
Olympic King Cake at Tea and Scones.
Anya Von Bremzen's Kotleti at Nancie McDermott.
Guinness Stout Ice Cream at Spicebox Travels.
Ham-Pineapple Garlic Rice at Asian in America.
Chocolate Guinness Whoopie Pies at Cooking in the Fruit Bowl.
Russian Tea at A Cook and her Books.
Coconut Hot Chocolate with Kahlua at HapaMama.
Solyanka (Russian Sweet and Sour Beef Soup) at A Tiger in the Kitchen.
Meyer Lemon Afternoon Cake at Free Range Cookies.
Vegetarian Poutine at Miss Cheryl Tan.
Sochi Sliders at Sandwich Surprise.