Let's Lunch: Kummerspeck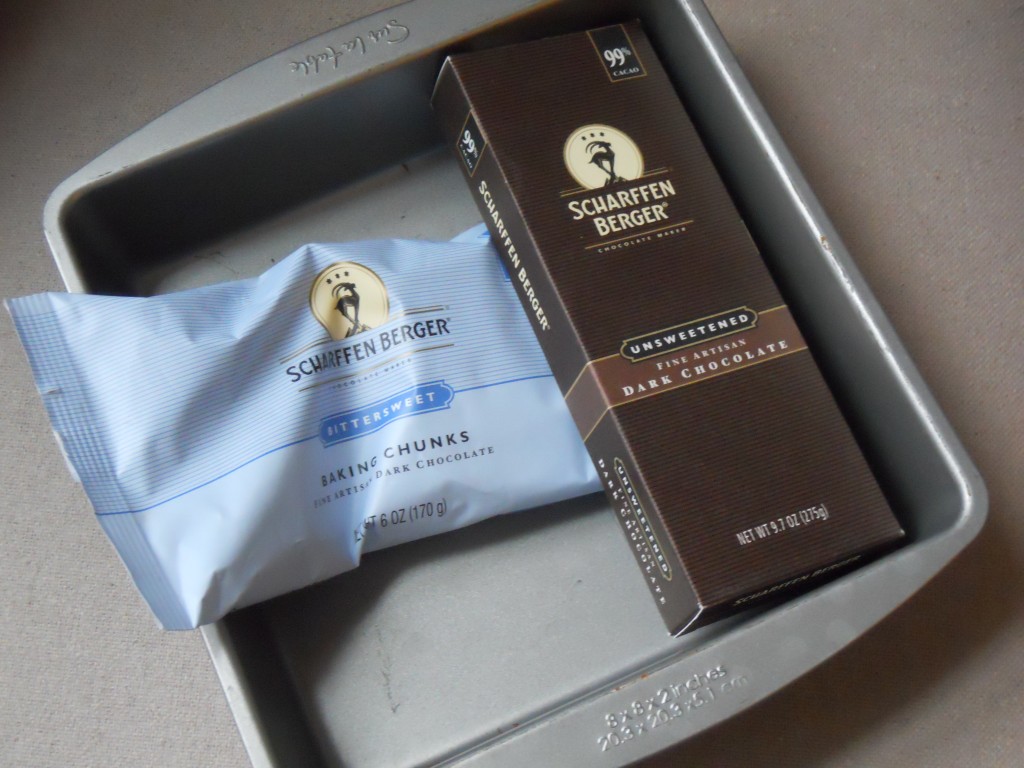 Oh, Germany.  I do so love the way you make new words by jamming existing ones together.  How else would we end up with a word like kummerspeck?  In case you hadn't heard it before, kummerspeck translates to "grief bacon," meaning the weight you gain from emotional overeating.  How do we not have this word in English?
Grief bacon is the theme for this month's Let's Lunch.  Being as the holidays are just over, I could take this as an opportunity to post a healthy recipe to address the results of the seasonally traditional overeating, emotional and otherwise, but what fun would that be?  Bacon, frankly, makes pretty great cause for grief bacon, but if I am feeling really down, I prefer to be beaten soundly about the head and shoulders with the Stick of Chocolate.  (And Scharffen Berger makes some really great chocolate chunks for just that purpose.  They are SO my favorite.)
After the jump, the brownies I want when I am In A Mood, preferably a trifle undercooked, and always chocolated to the teeth.
Evil Grief Brownies
2 cups white sugar
1/2 tsp. salt
4 eggs
1 tsp. vanilla
1/2 cup plus 3 Tbsp. butter
5 ounces unsweetened baking chocolate
1 cup flour
1 1/2 cups pecan halves
6 ounces bittersweet chocolate chunks (more if you feel particularly evil or grieved)
Butter a 9″x13″ pan.  (Note that this is not the pan pictured above!)  In a large bowl, beat eggs and salt together and then beat in sugar and vanilla.  In a small saucepan on low heat, melt together baking chocolate and butter, stirring frequently.  (This can also be done in the microwave.)  Let chocolate mixture cool slightly, then stir into egg mix.  Stir in flour and salt, being careful not to overstir, and then stir in pecans and chocolate chunks.
Pour into prepared pan and bake for 25 minutes at 350 F or just until a toothpick inserted into the center comes out covered with sticky crumbs but not batter.  Be sure not to overbake!
Still hungry?  Check out the other offerings on Twitter, hashtag #LetsLunch, or below:
Hug-in-a-Bowl Noodles from Vivian Pei.
An ode to toast at GrongarBlog.
Caramel, Chocolate, and Salted Peanut Ice Cream from Monday Morning Cooking Club.
Pot Stickers from Insatiable Munchies.
Sabaw ng Monggo from Asian in America.
German Pancakes from A Tiger in the Kitchen.
Dark Chocolate Vanilla Pomegranate Parfait from Spicebox Travels
Slap Yo' Mama Brownies from In a Southern Kitchen.
Chicken Noodle Soup from Tea and Scones.
Maple Candied Bacon from GeoFooding.