Holiday Treats! Pecan Caramels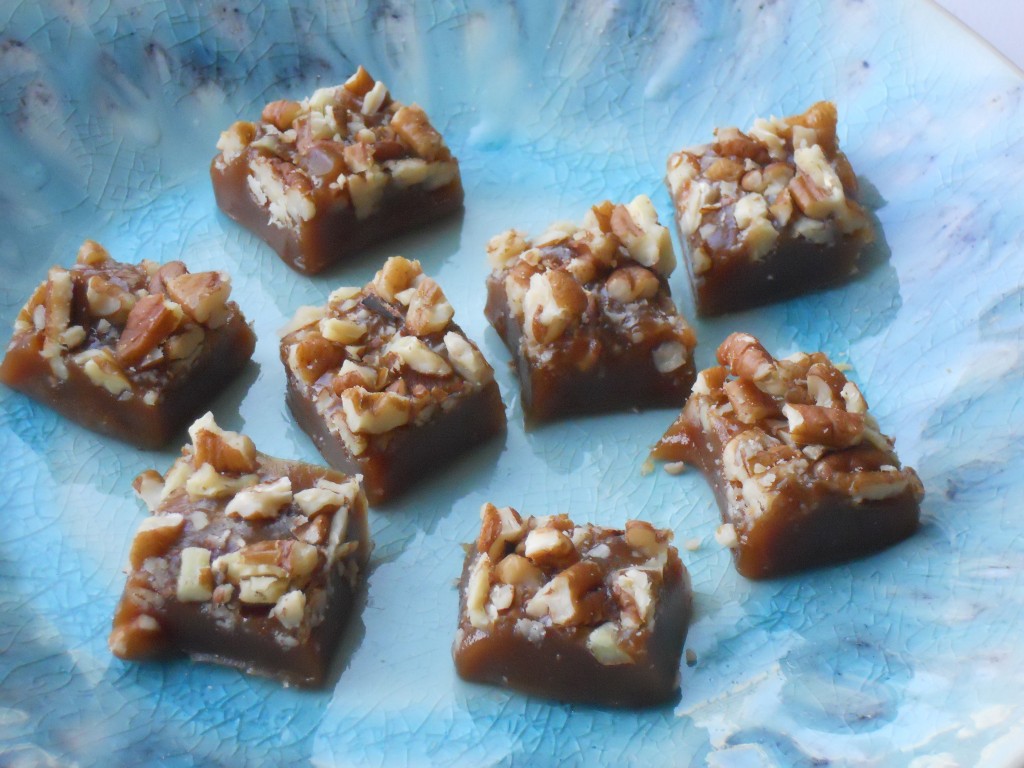 It's time for our holiday edition of Let's Lunch!  This month's theme is things that are both edible and decorative, and, wow, doesn't that cover a lot of ground at this time of year?  Maybe I'm biased by my gigantic sweet tooth, but I feel like there's nothing more decorative than a lovely plate of Christmas cookies and treats.  Or at least, it's decorative for the ten seconds between the time that it comes out of the kitchen and the moment when all that's left is that weird thing your crazy neighbor brought by yesterday and the painfully overbaked M&M cookies from that batch that was in the oven when your mom called.
In recent years, I've taken to doing caramels as a festive way to greet friends and family at this time of year.  I know that may sound intimidating for those who haven't made candy before, but it is crazy easy if you a) do not ever walk away from the pan, and b) have an accurate candy thermometer.  I admit, this last item can be a challenge – I bought two thermometers and found that they sometimes gave me readings as much as 30 degrees apart – but assuming you get a good digital thermometer and pass that hurdle, you're golden.
Because I continue to be obsessed with pecans around the holidays, I put together the little gems above.  Recipe after the jump!
Pecan Caramels
1 cup heavy cream
5 tablespoons unsalted butter
1 teaspoon fleur de sel
1 ½ cups sugar
¼ cup light corn syrup
¼ cup water
1 cup pecans, toasted and chopped
Line an 8" x 8" pan with parchment paper and lightly oil the paper.  (You will be glad for this later).
Bring cream, butter, and fleur de sel to a boil in a small saucepan, then remove from heat and set aside.
Boil sugar, corn syrup, and water in a large heavy saucepan, stirring until sugar is dissolved. Boil, without stirring but gently swirling pan, until mixture is a light golden caramel color. Carefully stir in the cream (it will boil up significantly, so pour cautiously).  Clip on a candy thermometer and simmer, stirring frequently, until the temperature reaches 248 F, 10 to 15 minutes.
Turn into the prepared pan and scatter evenly with pecans.  Let the caramel cool thoroughly, then lift it out of the pan onto a cutting board and cut into one-inch squares using an oiled knife.  If necessary, give the pecans a gentle press into the caramel to help them adhere.  For cutting a softer caramel, chilling the batch in the refrigerator first will be helpful, but if you've made a firmer caramel letting it come closer to room temperature will make it more manageable.
Wrap in cellophane or wax paper squares (you can get them online or at candy supply stores).  They'll keep for a few weeks… assuming you can keep from eating them for that long.
Side note: 248 F should give you a fairly soft but solid caramel that I find enjoyable, but if you prefer a firmer candy, you can give it a few more degrees.  Just be sure to keep an eye on the consistency of the caramel via the cold water method, lest you end up with toffee.  (For those who haven't done candy before, get a glass or bowl of cold water and drip a little of the caramel into the water; at the temperatures in question you should be able to form it into a ball that's moderately firm but still squishable.  The firmness of the caramel in the water will approximate the firmness of the end product once it's cooled.)
Still hungry?  Check out the other offerings on Twitter, hashtag #LetsLunch, or below:
Peppermint Candy Tray at A Cook and Her Books.
Ottolenghi-Style Eggplant with Tahini and Pomegranate at Spicebox Travels.
Bibingka (Mini Filipino Rice Cakes in Banana Leaves) at Asian in America.
Spiced Shortbread Cookies at HapaMama.
Ornament Sandwiches at Sandwich Surprise.
Toblerone and Roasted Almond Tree at Monday Morning Cooking Club.
Merry Kale Trees at Free Range Cookies.
Lemongrass and Pandan Christmas Sugar Cookies at The Asian Grandmother's Cookbook.
Gingerbread Snowflake Cookies at Vivian Pei.
Buche de Noel at Nancie McDermott.
Chewy Gingerbread Cookies at Insatiable Munchies.