Let's Lunch: Farmer's Market Gazpacho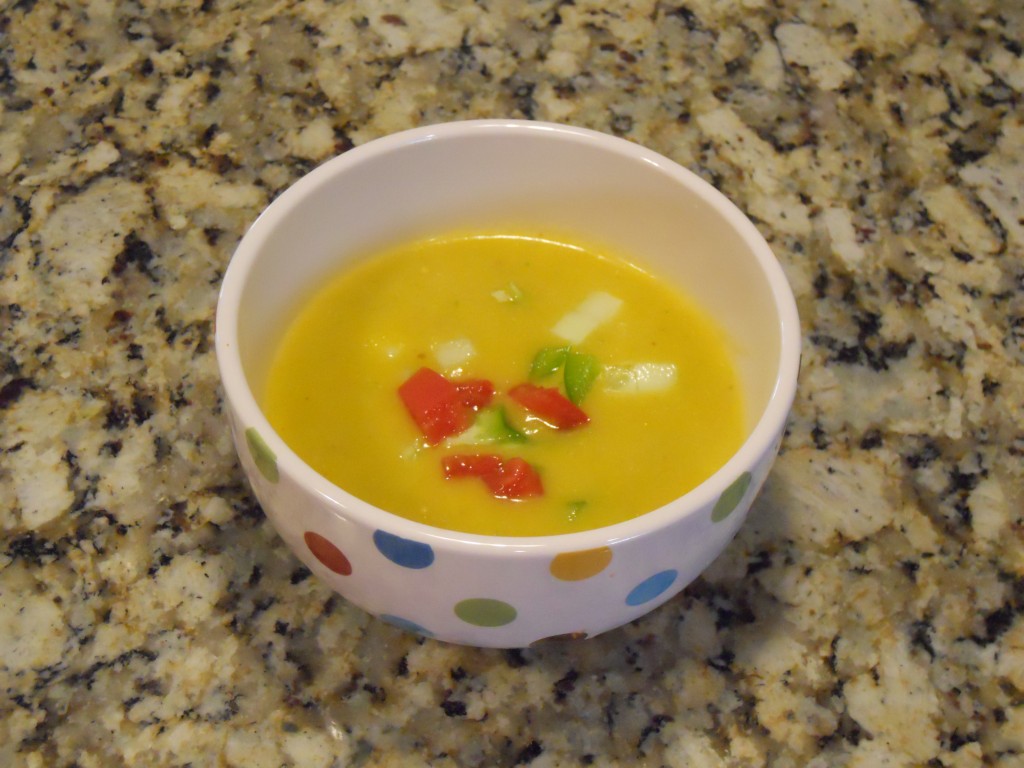 Welcome to this month's Let's Lunch!  This month's theme is vegetables, in honor of Let's Lunch-er Joe Yonan's brand new cookbook, Eat Your Vegetables.  This is the perfect time of year for a cookbook celebrating produce, as farmer's markets in this part of the country really hit their stride.  Joe's cookbook focuses on recipes for those of us who frequently cook for one, and includes handy recommendations for reusing leftover ingredients.  Anyone who's interested in making the most of their veggies as we head into fall should definitely check it out.
As you may know, I'm a city dweller, so I don't get to hit up the roadside stands that I remember from my childhood in the normal course of events.  That's okay, though — the farmer's markets around here are great and amazingly convenient.  Although right now the stands are an embarrassment of riches, it's the heirloom tomatoes that caught my eye this week.  I therefore bring you a lovely summer gazpacho sourced entirely from our local market (including the bread!).  The really great thing about gazpacho in my opinion?  It's SO EASY.  Toss a few things in the blender and you're done.  Along with a crusty loaf of bread, it's the perfect summer lunch.
Farmer's Market Gazpacho
2 lbs. heirloom tomatoes of your choice, plus additional for garnish  (I chose a yellow variety)
1 cucumber, plus additional for garnish
1/2 green bell pepper, plus additional for garnish
1 clove garlic, peeled
1/3 cup plus 2 Tbsp. olive oil
1 thin slice good white bread
1 Tbsp. white wine or sherry vinegar
Salt to taste
In small frying pan, fry bread gently in 2 Tbsp. olive oil until crisp all the way through.  Pulse in food processor until rendered into crumbs, and set aside.
Cut tomatoes into large pieces and blend in food processor or blender until smooth.  Cut green pepper and cucumber into large pieces; add to blender with garlic clove and blend until smooth.  Add bread crumbs and vinegar, and blend until smooth.  Add vinegar and olive oil and blend.  Salt to taste and chill.  If you like, pour through a fine mesh strainer before refrigerating.
Garnish with diced tomato, cucumber, and green pepper, and serve cold.  Garnishing with avocado would also be delicious if nontraditional.
Still hungry?  Check out the other offerings on Twitter, hashtag #LetsLunch, or below:
Guaca-chi at Joe Yonan.
Veggie Soup at Monday Morning Cooking Club.
Egg-Drop Broccoli in Ginger-Miso Gravy at A Tiger in the Kitchen.
Vegetable Tempura at HapaMama.
Fusilli with Corn Sauce at Eating My Words.
Gateway Brussels Sprouts at Spicebox Travels.